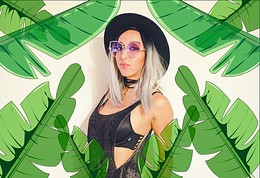 Location
Orange County , CA
About Cinthya Delgado
Hola, I'am a Twenty year old Graphic Designer living in Southern California. I create awesome logos, Business cards and any other Illustrated work. I also dedicate my free time doing photography ,painting or pretty much any other creative outlet =)
I have a passion for designing creative and modern graphics with a high attention to detail, I'm always staying in touch with the latest trends in design as far as type, color, and shapes go.
I have been working as Graphic Designer (freelance) for 2 years, and have done lots of work over that time. My skills cover many aspects of graphic design, illustration and technical knowledge with a strong proficiency in Illustrator , Photoshop, Flash, and InDesign.
I am always looking to work with new clients and help bring their ideas however simple or complex it may be to life.
Please look through my portfolio and if interested in working with me my info is on this page .